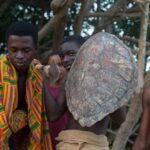 THE EXISTENCE OF EKITAKYI
The AIM. movie project at Komenda Aldersgate Methodist School developed a story about how EKITAKYI (Popularly known as Komenda) came to existence leading by one of our German volunteer, Henri. The story is about how two brothers (Komeh Panyin and Komeh Kuma) and a sister (Nana Ekua Finsiwah) started a long way journey from Techiman and ended in Komenda.
When Komeh Panyin, Komeh Kuma, Nana Ekua Finsiwah (their sister) and others arrived in Komantse, Komeh Kuma decided to settled there. His brother, Komeh Panyin advised him not to stay there but he refused. He got married there, had children and later fell sick and died.
Komeh Panyin used to visit his younger brother Komeh Kuma, when he was seriously sick and once said to him "Meka kyerɛ wo nanso Komeh anntse", hence the name Komantse. Watch out for the rest.