Schüler Eric Essah aus Komenda/Ghana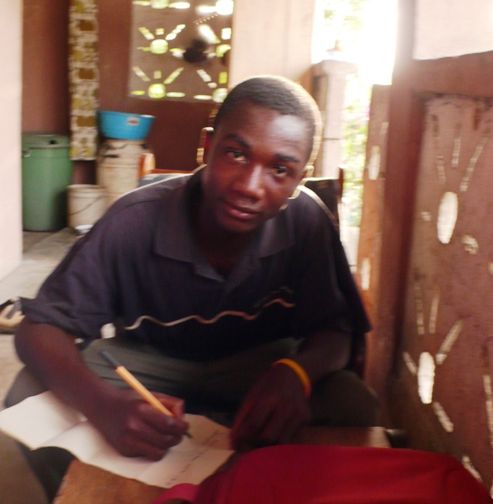 Um nicht nur aus unserer Sicht auf das Projekt einzugehen und aus Ghana zu berichten, sondern Euch als Lesern auch die Möglichkeit zu geben, Ghana aus der Perspektive der lokalen Bevölkerung mitzukriegen, hat sich der Jugendclub folgendes überlegt: Einige Mitglieder des Jugendclubs werden ihren eigenen Blogeintrag verfassen. Auf diese Weise erfahrt ihr Leser mehr über die Zielgruppe des Projektes, und vor allem auch bekommen die Jugendlichen die Möglichkeit, durch Ihre Beiträge auf sich aufmerksam zu machen und in einen "interkulturellen" Austausch zu treten.
So haben die interessierten Jugendlichen vorerst einmal alle "irgendwas und etwas über sich selbst" (So hieß die Aufgabe) geschrieben. Das erstens, weil die Jugendlichen so eine Möglichkeit haben sich vorzustellen, und zweitens, weil die Jugendlichen von etwas wie einem "Blog" noch nie gehört haben und wir uns erhoffen, dass die Jugendlichen möglichst ohne unsere Anweisungen, sondern durch Anregungen und Fragen der Leser ermuntert und in die richtige Richtung geleitet werden.
Wir werden dies so weiterführen, dass sich die Jugendlichen in regelmäßigen Abständen treffen, um neue Blogeinträge zu verfassen, die dann uns, bzw. dem jeweiligen Volontär, auf dem Computer abgetippt werden und dann unverändert veröffentlicht werden – jegliche Leser-Kommentare werden dann für die jeweiligen folgenden Treffen für die Jugendlichen ausgedruckt, so dass diese in den Austausch mit den Lesern treten können – dies solange sie noch nicht Zugang zu den benötigten Computern mit Internetzugang haben.
Liebe Leser. Wir würden euch dann persönlich noch einmal darum bitten, besonders eifrig auf die Beiträge mit Kommentaren oder Nachrichten zu reagieren – denn das erfreut die Jugendlichen und motiviert sie weiterhin. Wir haben die Texte bewusst nicht auf Deutsch übersetzt, und würden euch darum bitten, auf Englisch zu antworten. Falls ihr meint, dass es einer Übersetzung benötigt, teilt uns das bitte mit.
Lieben Dank, und nun viel Spaß beim Lesen, Antworten und Austauschen.
[Die Texte der Jugendlichen sind unverändert widergegeben (lediglich Rechtschreibfehler sind korrigiert) und dem freien Gestaltungswillen des jeweiligen Jugendlichen überlassen.]
My name is Eric Essah, I am fifteen years old and I attend College Practise at Junior High School B in Komenda. Mathematics is my favourite subject.

The food I like best is rice and stew and the game I like best is Lido.

If you have any questions or comments I will be forwarded your e-mails or blog commentaries. Otherwise you can of course also send me a letter; my post address is as follows:

Eric Essah

P.O. Box KM 5

Central Region

Ghana

The Acute Shortage of Water in Komenda and Poor Sanitation

Water and sanitation is the backbone of life. We cannot leave them out when we are dealing with social issues.

Komenda, Edina, Eguafor, Abrem all belong to one district in the Central Region as parts of Ghana. And all these towns are developing faster than Komenda because we do not have someone to talk on our behalf for us.

However, as we do not have anyone to talk on our behalf, we neither have water to drink nor for domestic use (cooking, washing, etc) and our sanitation is very poor.

Also, our situation is bad because we do not have toilets and dustbins around. So we just throw the rubbish wherever we like and we go to toilet anywhere. And our people are dying because of diseases in the town.

On sanitation problem we want the District Chief Executive to help us to build toilets and they should provide dustbins for the people of Komenda so that we will put the rubbish in the dustbins and we will stop going to toilet at the beach because all this causes diseases to the people of Komenda.

However, we the school children are always late to school because we do not have water so we have to go to look for water before we can bath – that causes us to be late.

On water problems we want the Assembly Men to talk to the Regional Minister to give us a poly tank so we can keep water in it and we will have water every time.

Poem

The title of my poem is "HIV or Auntie Esi"

HIV/AIDS or Auntie Esi

I am HIV/AIDS

And some students call me Aunti Esi.

And the first letters of my name are seven.

But I have killed more than millions of people in the world.

And I don't know whether you are young or old, rich or poor,

I am always ready for anyone in the world.

Everyone in the world is afraid of me.

So my sisters, my brothers, and my friends aware of yourself!